Physical Therapy & Rehabilitation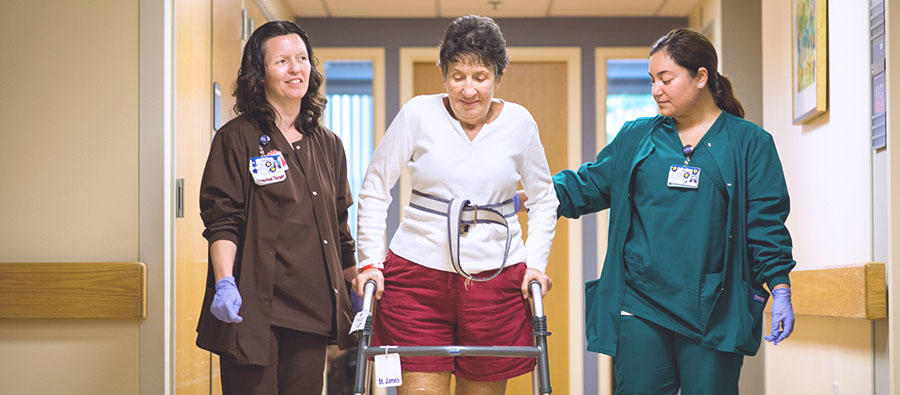 We are here to help you find what you need.
We offer a full range of inpatient and outpatient rehabilitation services including physical therapy, occupational therapy, speech and language pathology, aquatic therapy, pelvic floor rehabilitation and sports medicine.
Norwood Hospital offers a full range of quality inpatient and outpatient rehabilitation services, including physical therapy, occupational therapy, and speech and language pathology. Our rehabilitation program is staffed by a team of experienced and knowledgeable health care professionals. Whether you are recovering from an orthopedic injury or surgery, or have needs related to a neurological issue or another condition that affects daily living and working, our rehabilitation team is focused on helping you achieve your personal goals. Our team of professional therapists and support staff brings a wide range of skills and strategies in coordinating each person's care.
Physical Therapy Services
Aquatic Therapy and Transitional Program
Balance and Vestibular Rehabilitation
Gait Instability
Orthopedic/Musculoskeletal
Post-surgical
Women's Health/Pelvic Floor Dysfunction
Occupational Therapy Services
Hand Therapy – Orthopedics
Custom Splint Fabrication
Neurologic Disorders
Speech and Language Pathology Assessment and Treatment Services
Aphasia/Neurologic Disorders
Fluency (Stuttering) for Adults and Children
Pediatric Speech-Language for Children
Swallowing Disorders
Modified Barium Swallow Studies
Voice Disorders for Adults and Children
Parkinson's Voice Rehabilitation – LSVT Certified
General Appointment Information
To make an evaluation appointment, please contact us at 781-769-4000 ext. 12430. You will need the name of your referring physician and your insurance information in order to book an appointment. If this is a work-related injury, please provide your workers' compensation information. If this is related to a motor vehicle accident, please provide the information for the insurance company.
Insurance
The hospital accepts most types of insurance. Please be aware that all copays are due at the time of each appointment.
What to Bring to Your First Appointment
What to Expect at Your First Appointment
Dress comfortably in order to work with the therapist
Arrive 10 minutes early for your initial appointment so that you can check-in and complete any remaining paperwork
Your evaluation will last 60 minutes, during this time your therapist will evaluate your injury, establish a plan of care for treatment, and discuss the frequency and length of therapy required
Follow-up appointments will be booked after your evaluation; these can be from 30 minutes to one-hour sessions depending on the therapy specialty
Resources
Aquatic Therapy

Aquatics Therapy is similar to that provided on land with the added benefit of decreased pressure on the joints from the buoyancy of the water. This is optimal treatment for conditions with decreased weight bearing, weakness, limited endurance, or where pain affects tolerance of exercise. Typical diagnoses would include post operative orthopedics or spine surgeries such as total joint replacements, back fusions or laminectomies, multiple sclerosis, back injuries and arthritis.

Women's Health/Pelvic Floor Dysfunction

Our licensed physical therapist customizes physical therapy treatment plans to meet the individual needs of patients diagnosed with pelvic floor disorders. Depending on the diagnosis, a treatment plan may include a stretching and strengthening routine, manual therapies, including myofascial release and massage, bowel and bladder retraining, biofeedback, and education. Download these helpful tips for managing stress urinary incontinence.

Balance and Vestibular Rehabilitation

An individually tailored therapy program that aims for enhanced quality of life. This program is supervised by a physical therapist and focuses on alleviating the symptoms of disequilibrium, vertigo and dizziness.