Directions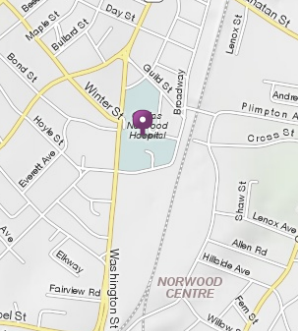 Norwood Hospital
800 Washington St.
Norwood, MA 02062
Main: 781-769-4000
For detailed directions to Norwood Hospital from your own starting point, click on the map, otherwise scroll down to see the general directions.
From the East/West
Take the Massachusetts Turnpike (I-90) West/East to Route 128 South.
Follow Route 128 South for approximately 12 miles.
At Exit 15B Norwood, take Route 1 South for 2.5 miles to the Norwood/Canton rotary exit.
Take the first right off the rotary, which is Nahatan Street, toward Norwood Center.
At the fourth set of lights, take a left onto Broadway Street.
Follow Broadway to the end and curve right onto East Hoyle Street. The hospital main entrance will be immediately on the right off East Hoyle Street. (This is also the emergency entrance.)
Follow signs for patient drop-off and/or visitor parking.
From the North
Take Route 128 South to Exit 15B, Route 1 South, Norwood. Stay on Route 1 South for 2.5 miles to the Norwood/Canton exit. Follow the same directions as above.
From the South
Take Route I-95 North to Exit 11B, Neponset Street/Norwood. Follow Neponset Street for 1.5 miles to the rotary. From points east or west of I-95 North, take I-495 to I-95 North. Take the second exit off the rotary. This is Nahatan Street. Follow the same directions as above.
Directions to Norwood Hospital's Foxboro patient services, including cancer center
Directions to Norwood Hospital's physician offices (Steward Medical Group) at Chestnut Green, Foxboro
Parking & Public Transportation
Parking
Visitor parking at Norwood Hospital is available 24 hours a day in the visitor parking lot off E. Hoyle Street behind the hospital. Parking is free for the first hour. For over one hour, there is a $5 one time charge per day with receipt. Please ask for a receipt to avoid being charged for future visits on the same day.
Public Transportation
Norwood Hospital is conveniently located directly across the street from the "Norwood Central" commuter rail station on the MBTA's Franklin line. We are also located along the MBTA bus route 34 E. From the Forest Hills Station, take the "Walpole Center" bus, which follows Washington Street through Norwood Center and stops at the hospital. Please call the MBTA office directly for train and bus schedules.