Senior Leadership Team
Salvatore Perla, DrPH, President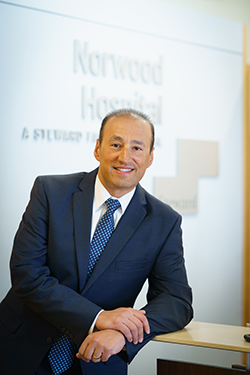 Dr. Salvatore (Sal) Perla is a dynamic health care leader with demonstrated success in building new service lines to serve the community and developing strong patient-centered cultures with a passion for delivering high-quality care. Sal came to Norwood Hospital in 2018 following five years leading another Steward facility, Nashoba Valley Medical Center (NVMC). Under Sal's leadership, NVMC was named a Leapfrog Top Hospital and earned many consecutive Grade A's for patient safety and quality. Sal was also instrumental in expanding new service offerings including bariatric surgery, comprehensive breast health, pain management and a state-of-the-art sports and physical therapy center; growing the medical staff, and bringing some of the latest diagnostic technologies to the hospital.
Prior to joining Steward Health Care, Sal served as Vice President of Milford Regional Medical Center where he oversaw clinical operations, program development and real estate. Perla started his career in Boston as a scientist specializing in microbiology and infectious disease. He is a graduate of Northeastern University and holds a master's degree in health care administration and a doctorate in public health with a focus on population health management with a sub-specialty in care coordination for individuals with mental illness.

Matthew H. Lowry, MD, FCCP, Vice President, Medical Affairs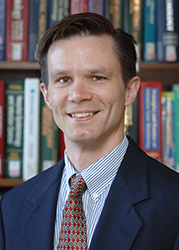 Dr. Matt Lowry, a practicing pulmonologist and critical care physician, became Chief Medical Officer (CMO) of Norwood Hospital in 2011. In this senior leadership role, Dr. Lowry is the primary liaison to the medical staff and responsible for quality improvement, risk management, and regulatory compliance.
Prior to his appointment as CMO, Dr. Lowry served as Medical Director of the Intensive Care Unit at Norwood Hospital for five years and was a Clinical Assistant Professor at Tufts University.  Before joining Steward Health Care, Dr. Lowry was a Clinical Assistant Professor of Medicine at Brown University and an Intensive Care Unit Staff Physician at the Memorial Hospital of Rhode Island.  He served five years as a Lieutenant in the United States Navy, earning the Navy Achievement Medal.
Dr. Lowry received a Bachelor of Science in Mechanical Engineering from the University of Virginia (UVA), earned a Master of Business Administration from the Darden Graduate School of Business at UVA and attended the UVA School of Medicine. He was Chief Resident in the Department of Internal Medicine at University of Rochester Strong Memorial Hospital, and completed a fellowship in Pulmonary and Critical Care Medicine at Boston University Boston Medical Center.
Dr. Lowry is board certified in pulmonary medicine and critical care medicine and is a certified physician executive. He is involved in local youth soccer as a licensed coach.
Justine E. DeFronzo, MBA, BSN, RN, Vice President and Chief Nursing Officer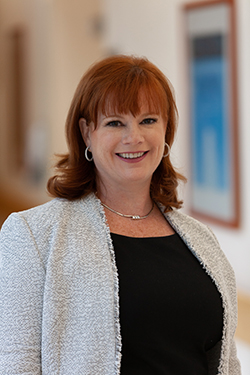 Justine DeFronzo, MBA, BSN, RN joined the Norwood Hospital family as Vice President and Chief Nursing Officer in April of 2019.
Justine comes to Norwood Hospital with over 20 years of progressive achievement in the community hospital setting. She is an accomplished nursing executive with a passion for creating a collaborative professional practice environment with an emphasis on high-quality patient care and safety. Prior to joining Norwood Hospital, Justine served as the Associate Chief Nursing Officer at Emerson Hospital in Concord, Massachusetts where she was responsible for inpatient medical surgical and telemetry services, pediatrics, critical care unit, transitional care unit, behavioral health unit, nurse staffing office, dialysis, and the administrative nursing supervisors. Justine is also experienced in Emergency Services having served as Director of Emergency Services at Emerson Hospital and, previously in the same role at Heywood Hospital in Gardner, Massachusetts.
Justine spent the early part of her career at Lowell General Hospital, serving in a variety of nursing roles with progressive responsibility, including Pediatrics, Emergency Department, Administrative Nursing Supervisor, and Clinical Nurse Manager – Pediatrics and Special Care Nursery. She was instrumental in achieving Magnet designation for the hospital.
Justine received both her Master of Business Administration and Bachelor of Science in Nursing at Rivier University and is a fellow of the MHA Leadership College. She is a member of the Organization of Nurse Leaders and is on the Management of Practice Committee and the IT subcommittee. Justine is dedicated to community involvement and volunteerism and has been on the Board of Directors for the Boys & Girls Club of Greater Lowell for several years and is currently serving as Chair.
Elizabeth Ganem, MBA, Chief Financial Officer
Beth Ganem joined Norwood Hospital as Director of Finance Operations in 2015. Her success and positive impact on the financial operations of the hospital led to her promotion to CFO in 2018. Beth is an accomplished healthcare executive with a proven track record of improving efficiencies and strengthening operations and financials. Prior to joining Norwood Hospital, Beth held positions of increasing responsibility with Massachusetts General Hospital and in the consumer goods industry. 
Beth earned a Management degree at University of Massachusetts in Boston and an MBA in Finance at Bentley College.