Norwood Hospital Named Top 10 percent in Nation for General Surgery in 2020 by Healthgrades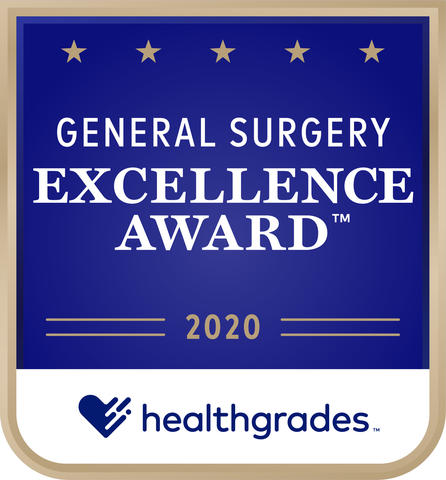 Norwood, MA (October 22, 2019) – Norwood Hospital is among the top 10 percent in the nation for General Surgery, according to a national report by Healthgrades, the leading online resource for comprehensive information about physicians and hospitals. Every year, Healthgrades evaluates hospital performance at nearly 4,500 hospitals nationwide for 32 of the most common inpatient procedures and conditions using Medicare data, and all-payer data from 15 states for bariatrics and appendectomy procedures.* Norwood Hospital's achievement is part of findings released today in the Healthgrades 2020 Report to the Nation, which underscores the importance of hospital quality to both consumers and hospital executives. 
The variation in hospital quality can have a significant impact on the quality of care a patient receives. From 2016-2018, patients treated at hospitals receiving the General Surgery Specialty Excellence Award have, on average a 27.6% lower risk of experiencing a complication or dying while in the hospital than if they were treated in hospitals that did not receive the award.* 
"The hospitals that stand out for exceptional performance in General Surgery should be commended for their long-standing commitment to quality," said Brad Bowman, MD, Chief Medical Officer, Healthgrades. "As consumers are increasingliy saavy when it comes to finding and selecting a hospital, patients can be confident when they select a hospital that has achieved this Healthgrades recognition." 
"Earning the Healthgrades' General Surgery Excellence award is a special honor that reflects the quality of care offered throughout the entire hospital, from pre-admission testing through discharge after an inpatient stay," said Salvatore Perla, DrPH. "Working with leadership, nursing and frontline staff, we have created an environment that is patient focused to ensure optimal outcomes."
For its analysis, Healthgrades evaluated approximately 45 million Medicare inpatient records for nearly 4,500 short-term acute care hospitals nationwide to assess hospital performance in 32 common conditions and procedures, and evaluated comparative outcomes in appendectomy and bariatric surgery using all-payer data provided by 15 states. Healthgrades recognizes a hospital's quality achievements for cohort-specific performance, specialty area performance, and overall clinical quality. Individual procedure or condition cohorts are designated as 5-star (statistically significantly better than expected), 3-star (not statistically different from expected) and 1-star (statistically significantly worse than expected) categories. View the full list of Specialty Excellence AwardTM recipients here. The complete Healthgrades 2020 Report to the Nation and detailed study methodology, can be found at https://partners.healthgrades.com/healthgrades-quality-solutions/healthgrades-quality-awards/. 
In addition to earning the General Surgery Specialty Excellence award, Norwood Hospital was also recently recognized for the following clinical achievements: 
•    Patient Safety Award 2017-2019
•    Total Knee Replacement Five-Star Recipient 2019
###
About Norwood Hospital
Norwood Hospital is a full-service, 215-bed community hospital for adults and children with a focus on delivering world-class health care along with the latest advances in technology and treatment options. With first class specialists, innovative treatment options, and state-of-the-art technology, including robotic-assisted surgeries for joint replacement, the hospital campus provides exceptional care throughout Norfolk County and surrounding areas. Norwood Hospital has received many awards including 2018 Healthgrades Patient Safety Excellence Award, MBSAQIP (Metabolic and Bariatric Surgery Accreditation and Quality Improvement Program) Comprehensive Center Accreditation Award, and has been designated as two Blue Distinction+ Centers by Blue Cross Blue Shield of Massachusetts for Maternity Care and for Knee and Hip Replacement. Norwood Hospital is part of the Steward Health Care System LLC. Additional information is available at www.norwood-hospital.org.
*Statistics are based on Healthgrades analysis of MedPAR data for years 2016 through 2018 and represent three-year estimates for Medicare patients only.