Norwood Hospital Earns Five-Star Rating for Total Knee Replacement from Healthgrades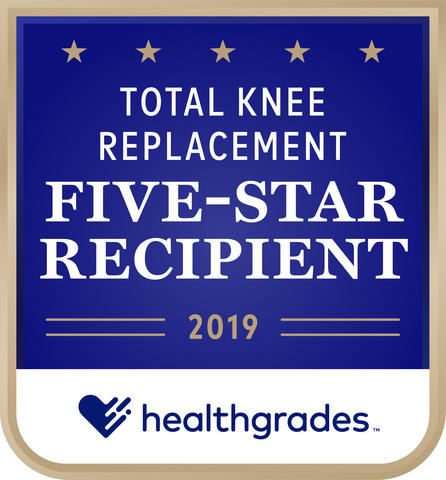 Norwood, MA (June 12, 2019) – Norwood Hospital announced today it has earned a 5-star rating for Total Knee Replacement outcomes according to a study released by Healthgrades, the leading online resource for comprehensive information about physicians and hospitals. This achievement is part of new findings and data featured in the Healthgrades 2019 Report to the Nation. The new report demonstrates how clinical performance continues to differ dramatically between hospitals regionally and nationally. Every year, Healthgrades evaluates hospital performance at almost 4,500 hospitals nationwide for 32 of the most common inpatient procedures and conditions, as well as tracking outcomes in appendectomy and bariatric surgery using all-payer data provided by 15 states and the District of Columbia.*
"Norwood Hospital is committed to providing our community with high-quality care," said Salvatore Perla, DrPH, president, Norwood Hospital. "Knee pain is a significant quality-of-life issue and for many, knee replacement is the recommended treatment. With highly trained physicians and support staff, the latest in surgical equipment and techniques including Mako® robotic-arm assisted surgery, and thorough pre- and post-surgical care, we are proud to be among the best in the region offering knee replacement."
In addition to earning this distinction, Norwood Hospital also has earned:
•    Recipient of the Healthgrades Patient Safety Excellence Award™ for 3 Years in a Row (2017-2019)
•    Named Among the Top 5% in the Nation for Patient Safety for 3 Years in a Row (2017-2019)
•    Named Among the Top 10% in the Nation for Patient Safety for 3 Years in a Row (2017-2019)
Healthgrades Data
Variation in care has a significant impact on health outcomes. For example, from 2015 through 2017, if all hospitals as a group performed similarly to hospitals receiving 5 stars as a group, then on average 222,210 lives could potentially have been saved and 157,210 in-hospital complications could potentially have been avoided.* A 5-star rating indicates that Norwood Hospital's clinical outcomes are statistically significantly better than expected when treating the condition or performing the procedure being evaluated.
For the 2019 Report to the Nation, Healthgrades compared hospitals with statistically better than expected performance (5-stars), as a group, to those with statistically worse than expected performance (1-star), as a group, and found from 2015-2017, patients having Total Knee Replacement in hospitals with 5-stars have, on average a 70.5% lower risk of experiencing a complication while in the hospital than if they were treated by hospitals with 1-star.*
"Clinical quality varies significantly between hospitals, so it's important for consumers to use information about outcomes to assess where to receive care," said Brad Bowman, MD, Healthgrade's Chief Medical Officer. "This 5-star rating for Total Knee Replacement  showcases the expertise and commitment of Norwood Hospitall to their patients."
For its analysis, Healthgrades evaluated approximately 45 million Medicare inpatient records for almost 4,500 short-term acute care hospitals nationwide to assess hospital performance in 32 common conditions and procedures, and evaluated outcomes in appendectomy and bariatric surgery using all-payer data provided by 15 states and the District of Columbia. Healthgrades recognizes a hospital's quality achievements for cohort-specific performance, specialty area performance, and overall clinical quality. Individual procedure or condition cohorts are designated as 5-star (statistically significantly better than expected), 3-star (not statistically different from expected) and 1-star (statistically significantly worse than expected) categories. The complete Healthgrades 2019 Report to the Nation and detailed study methodology can be found at www.healthgrades.com/quality/.
About Norwood Hospital
Norwood Hospital is a full-service, 215-bed community hospital for adults and children with a focus on delivering world-class health care along with the latest advances in technology and treatment options. With first class specialists, innovative treatment options, and state-of-the-art technology, including robotic-assisted surgeries for joint replacement, the hospital campus provides exceptional care throughout Norfolk County and surrounding areas. Norwood Hospital has received many awards including 2018 Healthgrades Patient Safety Excellence Award, MBSAQIP (Metabolic and Bariatric Surgery Accreditation and Quality Improvement Program) Comprehensive Center Accreditation Award, and has been designated as two Blue Distinction+ Centers by Blue Cross Blue Shield of Massachusetts for Maternity Care and for Knee and Hip Replacement. Norwood Hospital is part of the Steward Health Care System LLC. Additional information is available at www.norwood-hospital.org.
###