Thomas Kenvin, Paramedic, Sharon Fire Department, Honored with "EMS Stewards of the Community" Awards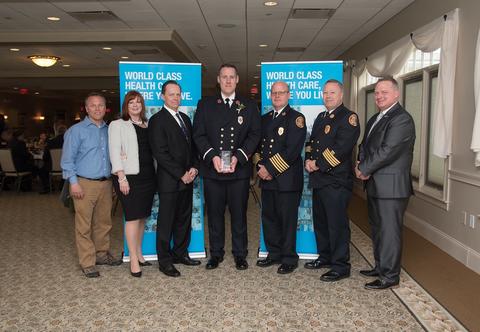 Recognizing those who deliver exceptional care and compassion to patients every day
Photo (L to R): Mike Valkanas, EMS Medical Director Norwood Hospital, Justine DeFronzo, CNO Norwood Hospital, David Emswiler, EMS Manager, Thomas Kenvin, Award Recipient from Sharon Fire, James Wright, Chief Sharon Fire, Richard Murphy, Sharon Fire, Brenden Hayden, VP EMS
NORWOOD, MA – In celebration of National Emergency Medical Services (EMS) week, Steward Health Care hosted the third annual "EMS Stewards of the Community" award ceremony on May 20 at the Tirrell Room in Quincy, Massachusetts.
Dallas-based Steward, which operates nine hospitals across Massachusetts, recognized 19 EMS providers. Among these were Lieutenant Thomas Kenvin, paramedic with the Sharon Fire Department. He was recognized for "going above and beyond" in his interaction with patients at Norwood Hospital and the surrounding communities. Kenvin, who is also a registered nurses (RN) and works in an Emergency Department, has been in EMS for 27 years, 25 of which he has served as a paramedic. He has been with the Sharon Fire Department for more than 18 years. On July 12, 2018, Kenvin and the Sharon Fire Department responded to a call for a man trapped in commercial machinery with fatal injuries. Kenvin was put in charge of patient care with the support of his paramedic colleagues. According to Sharon Fire Deputy Fire Chief Richard G. Murphy, who submitted Kenvin's nomination, wrote, he "utilized all his knowledge and resources to care for the patient and make him comfortable." And, while the patient did not survive his injuries, Murphy continued, "Tom's caring and compassion provided comfort to the patient. Just as important, Tom's efforts provided a tremendous amount of comfort to the patient's mother and family, something we as pre-hospital providers do not usually do."
According to Norwood Hospital President, Salvatore Perla, DrPH, Kenvin and his expertise and compassion highlight how important all caregivers are in a patient's care. "It is because of the tremendous efforts of paramedic professionals like Thomas Kenvin and his colleagues, that so many of our community members in need of emergency assistance are able to receive exceptional and compassionate care. We are proud to work alongside Thomas Kenvin and thank him for his dedication to our shared community."
The "EMS Stewards of the Community" awards show appreciation for emergency medical responders, emergency medical technicians and advanced emergency medical technicians, and paramedics who not only carry out the noble work of caring for others, but do so with a high degree of expertise, professionalism, and compassion. An internal committee of physicians and EMS directors selected nominated recipients among current providers in communities served by Steward.
Massachusetts State Police Trooper Christopher J. Dumont, EMT-P, delivered the "Stewards of the Community" keynote address. Trooper Dumont helped save the life of Transit Officer Richard Donohue, who was shot by one of the 2013 Boston Marathon bombing suspects. Because of his heroic actions, Dumont received the Medal of Honor, the highest award given by the Massachusetts State Police.
About Norwood Hospital
Norwood Hospital is a full-service, 215-bed community hospital for adults and children with a focus on delivering world-class health care along with the latest advances in technology and treatment options. With first class specialists, innovative treatment options, and state-of-the-art technology, including robotic-assisted surgeries for joint replacement, the hospital campus provides exceptional care throughout Norfolk County and surrounding areas. Norwood Hospital has received many awards including 2018 Healthgrades Patient Safety Excellence Award, MBSAQIP (Metabolic and Bariatric Surgery Accreditation and Quality Improvement Program) Comprehensive Center Accreditation Award, and has been designated as two Blue Distinction+ Centers by Blue Cross Blue Shield of Massachusetts for Maternity Care and for Knee and Hip Replacement.
Norwood Hospital is part of the Steward Health Care System LLC. Additional information is available at www.norwood-hospital.org. 
About Steward Health Care
Steward Health Care is the largest private, tax-paying physician-led health care network in the United States. Headquartered in Dallas, Texas, Steward operates 37 hospitals in the United States and the country of Malta that regularly receive top awards for quality and safety. The company employs approximately 42,000 health care professionals. The Steward network includes multiple urgent care centers and skilled nursing facilities, substantial behavioral health services, over 7,900 beds under management, and approximately 2.2 million full risk covered lives through the company's managed care and health insurance services.
The Steward Health Care Network includes 5,000 physicians across 800 communities who help to provide more than 12 million patient encounters per year. Steward Medical Group, the company's employed physician group, provides more than six million patient encounters per year. The Steward Hospital Group operates hospitals in Malta and nine states across the U.S., including Arizona, Arkansas, Florida, Louisiana, Massachusetts, Ohio, Pennsylvania, Texas, and Utah.
###