Norwood Hospital Continues Its Centennial Spirit and Community Partnerships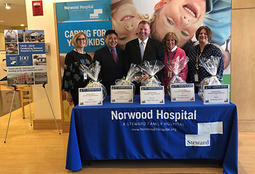 NORWOOD, MA – In January, Norwood Hospital announced it would celebrate its 100th year of caring for the community with a number of special events and initiatives through the course of 2019.
As one of the initiatives and to honor the Norwood Public School System 100 days of school and to encourage the love of reading, Norwood Hospital's employees initiated a wish list and book drive with each elementary school in February. Hospital employees purchased and collected books to present to the Balch, Callahan, Cleveland, Oldham and Prescott Elementary schools.
"I am proud of how our employees come up with ways to support our community partners and look for ways to tie activities into our special milestone year," said Salvatore Perla, DrPH, president of Norwood Hospital. "Caring for our community is our theme for 2019. It goes beyond health care. At Norwood Hospital, we believe this is an important message to live by and demonstrate."
On March 19, the five principals visited the hospital to meet the Centennial Committee and collect the books for their libraries.
Photo, left to right: - Donna Brown, Callahan; Wes Manaday, Oldham; Bryan Riley, Prescott; Nancy Coppola, Cleveland; Diane Ferreira, Balch
###