Norwood Hospital Celebrates Centennial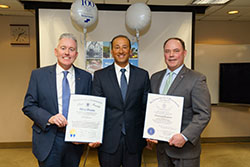 NORWOOD, MA –Norwood Hospital announced that it will be celebrating its 100th year of caring for the community with a number of special events and initiatives through the course of 2019. The hospital recently launched a year-long plan to recognize this historical milestone with its employees and community partners.
On January 17, 2019, the hospital hosted a kickoff event with State Representative John Rogers, State Senator Michael Rush, Norwood Police Chief William Brooks, Norwood Fire Chief George Morrice, Norwood's Town Selectman and General and Assistant Manager, the Norwood Historical Society, the hospital's Board of Directors, and Community Benefits Advisory Council, all of whom joined the employees and hospital leaders to acknowledge this important moment in the hospital's history. 
One hundred years ago, Dr. Eben C. Norton operated "cottage hospital" on what would eventually be Washington St. When George Willett, a prominent citizen, saw that the growing populations of Norwood and Walpole needed a larger facility, he purchased the property from Norton and added to it by moving the property to a two-story building on East Hoyle St. On January 17, 1919, a charter in the name of Norwood Hospital was granted at a meeting at the state house. It was only fitting that State Representative John Rogers and State Senator Mike Rush presented Norwood Hospital Dr. Salvatore Perla a Citation of Honor 100 years later.
"As the new president of Norwood Hospital, it is an honor to be part of the history, to listen to the experiences from our staff and physicians who have served our community and from the patients who have trusted us with their health care for generations," said Dr. Salvatore Perla, newly appointed president. "Caring for our community" is our theme for 2019. At Norwood Hospital, we believe this is an important message to live by and demonstrate."
A century ago, the vision of the hospital was, "to set the cornerstone of a great health center where thousands of people would turn in crisis, seeking relief from pain and suffering and be restored to healthful and useful lives." Ten decades later, through modernization, expansion, technology, and growth, the vision still lives on. We dedicate ourselves to providing the highest quality care with compassion and respect, delivering affordable health care, being responsible partners, and advocates to all the communities we serve.
"This year, we have much to be proud of and to celebrate. We look forward to bringing our community and employees together to reflect on this important milestone and engage in centennial activities throughout the year. We welcome the sharing of stories and experiences from past and present patients as we continue to care for our community" added Perla.
 
###