Norwood Hospital Hosts Annual Teddy Bear Tea Donations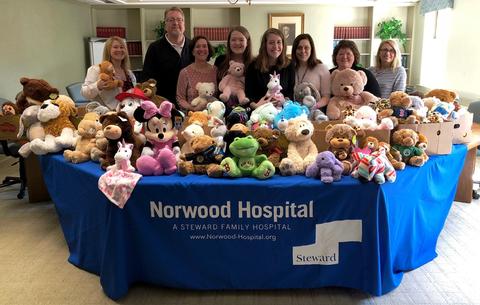 Norwood --  May 11, 2018 -- The Haglund Family of Norwood recently hosted their Annual Teddy Bear Tea in memory of their aunt and uncle who used to bring the girls to the Teddy Bear Tea held at the Ritz Carlton in Boston each year. Olivia, 18, and Isabel, 16, together with their parents, collected teddy bears and donated a portion of them to Norwood Hospital's Emergency and Pediatric Department patients. Thank you, Haglund Family!
Photo courtesy of Norwood Hospital: l-r: Jennifer Larrabee, RN, Pediatric Director; Brian Haglund; Jennifer Haglund; Isabel Haglund; Olivia Haglund; Tara Doub, RN, Director of Patient Care; Donna Rubinate, CNO; and Kimberly Kelley, Communications Director.