Norwood Hospital Named Recipient of Healthgrades 2017 Patient Safety Excellence Award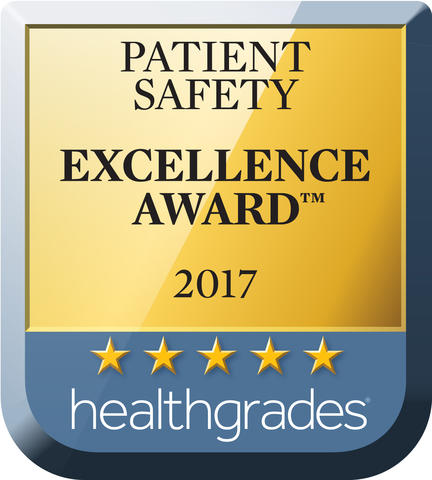 Norwood Hospital named recipient of
Healthgrades 2017 Patient Safety Excellence Award
May 25, 2017
Norwood Hospital announced today that it is a recipient of the Healthgrades 2017 Patient Safety Excellence Award™, a designation that recognizes superior performance in hospitals that have prevented the occurrence of serious, potentially avoidable complications for patients during hospital stays. The distinction places Norwood Hospital among the top 5% of all short-term acute care hospitals reporting patient safety data for its excellent performance as evaluated by Healthgrades, the leading online resource for comprehensive information about physicians and hospitals.
During the study period1, Healthgrades found that patients treated in hospitals receiving the Patient Safety Excellence Award were, on average, significantly less likely to experience accidental injuries during procedures or hospital acquired infections. On average, 134,568 patient safety events could have been avoided if all hospitals, as a group from 2013-2015, performed similarly to hospitals performing better than expected on each of 13 patient safety indicators evaluated by Healthgrades.
"Patient safety is top of mind in everything we do at Norwood Hospital and we are extremely proud to be recognized in this category," said Kim Bassett, President of Norwood Hospital. "We have received the Patient Safety Excellence Award 5 times since 2011, demonstrating our commitment to patient safety. I applaud our team for their unwavering effort. "
"Hospitals who have been recognized as Healthgrades 2017 Patient Safety Excellence Award recipients have minimized patient safety events and surpassed expectations in preventing safety incidents," said Brad Bowman, MD, Chief Medical Officer, Healthgrades. "We applaud these hospitals for their performance and for their organizational commitment to delivering high-quality care."
For more information about Healthgrades or to download a full copy of the report, or to receive information about hospital and physician quality, visit: www.Healthgrades.com/quality today.
About Norwood Hospital
Norwood Hospital is a full-service, 215-bed community hospital for adults and children with a focus on delivering world-class health care along with the latest advances in technology and treatment options. Norwood Hospital is part of the Steward Health Care System LLC, who owns and operates 18 community hospitals across four states, serves over 800 communities, and has more than 23,000 employees. The Steward network includes several thousand physicians who care for approximately 2 million patients annually. Additional information is available at www.norwood-hospital.org.