Mako™ Technology for Knee & Hip Replacement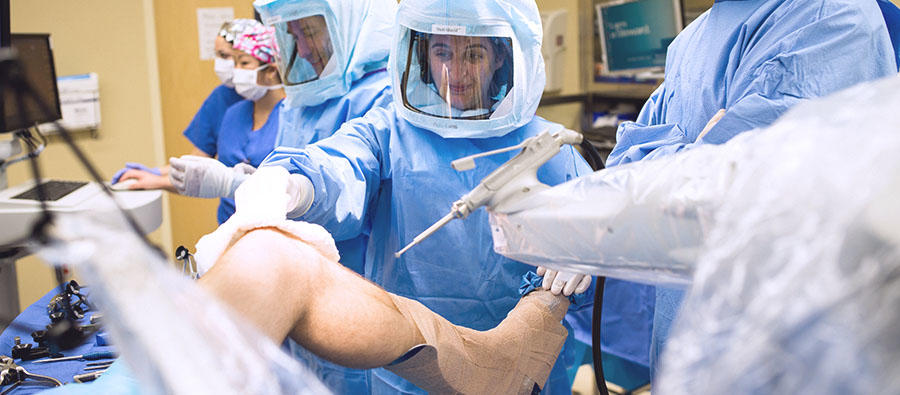 We are here to help you find what you need.
Orthopedic services at Norwood Hospital include Mako™ Robotic-Arm Assisted Surgery that is an exciting development in the treatment of early- to mid-stage osteoarthritis. The state-of-the-art procedure provides an alternative to traditional hip and knee replacement surgeries.
Mako Robotic-Arm Assisted Surgery allows Norwood's orthopedic surgeons to help patients:
Restore range of motion
Reduce or eliminate joint pain
Return quickly to the activities they love
Recovery and Rehabilitation
Norwood Hospital's orthopedic surgeons have the benefit of the hospital's rehabilitation program services department on-site to complement the services they provide. Norwood Hospital's Rehabilitation Program includes both inpatient and outpatient physical and occupational therapy.  Our experienced and knowledgeable team of therapists and support staff bring a wide range of skills and strategies in coordinating care for the recovery from orthopedic injury or surgery. Aquatic therapy is sometimes used for post-operative therapy, allowing for the added benefit of decreased pressure on joints from the buoyancy of the water. As part of a patient's recovery process, the dedicated staff at Norwood's Outpatient Rehabilitation Services Department provides education on diagnosis and establishes a complete plan of care.
Norwood Hospital is proud to be nationally recognized as a Blue Distinction+ Center for Knee and Hip Replacement by BlueCross and BlueShield.  Blue Distinction+ Centers demonstrate a commitment to quality care, resulting in better overall outcomes for knee and hip replacement surgery patients.
Learn More About Robotic-Arm Assisted Knee & Hip Replacement: Watch Our Online Seminar