Mother's Day Weekend at Norwood Hospital
Norwood, MA – May 16, 2018 -- It was a busy Mother's Day weekend at Norwood Hospital.  Congratulations to our newest local families and thank you for allowing us to care for you in our Small Miracles Maternity Unit!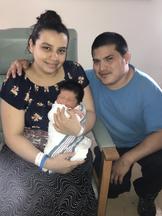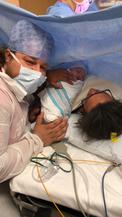 1stphoto-- Naga and Ramakrishna of Norwood welcomed baby girl, Sri Aanvi
2nd photo -- Wendy and Jose of Norwood welcomed baby boy, David, who will join his big sister Daniella at home
3rd photo - Mahalia and Peter of Attleboro welcomed a daughter, Penelope.
About Norwood Hospital
Norwood Hospital is a full-service, 215-bed community hospital for adults and children with a focus on delivering world-class health care along with the latest advances in technology and treatment options. Norwood Hospital is part of the Steward Health Care System LLC, who owns and operates 36 community hospitals nationwide which regularly receive top awards for quality and safety and has more than 37,000 employees. The Steward network includes thousands of physicians who care for approximately 2 million patients annually. Additional information is available at www.norwood-hospital.org.