Norwood Hospital Recognizes Doctors' Day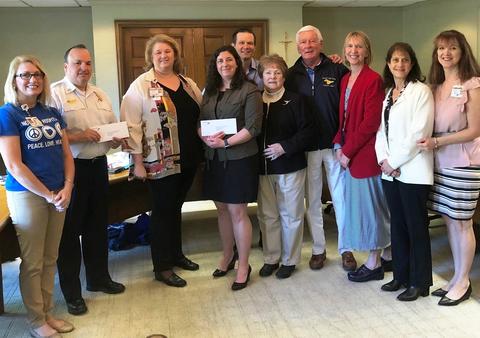 Norwood Hospital Recognizes Doctors' Day
Norwood, MA – May 15, 2018 – In the spirit of giving and to honor and thank physicians on National Doctors' Day, Norwood Hospital made donations to several local Substance Abuse Coalitions. Pictured here, Norwood Hospital presents donations to the Canton Alliance Against Substance Abuse and Impact Norwood Coalition to help support the important work their coalitions do in the communities to prevent and combat substance abuse and addiction. Coalitions in Dedham, Foxboro, Franklin, Walpole, and Sharon also received donations in honor of the Norwood Hospital Medical Staff.
Photo (l-r):
Kim Kelley, Norwood Hospital Communications Director; Canton Fire Chief Charles Doody; Kim Bassett,  Norwood Hospital President; Sigalle Reiss, Norwood Board of Health/Impact Norwood; Dr. Matt Lowry, Norwood Hospital Chief Medical Officer; Joan Jacobs, Chair Norwood Board of Health; George Usevich, Chair/Norwood Hospital Community Benefits Advisory Committee; Mary Jean McDermott, HESSCO; Ellen Borgenicht, ASE/ESOL, Blue Hills Regional School; and Margaret Lutz, Norwood Hospital Community Outreach Coordinator.
About Norwood Hospital
Norwood Hospital is a full-service, 215-bed community hospital for adults and children with a focus on delivering world-class health care along with the latest advances in technology and treatment options. Norwood Hospital is part of the Steward Health Care System LLC, who owns and operates 36 community hospitals nationwide which regularly receive top awards for quality and safety and has more than 37,000 employees. The Steward network includes thousands of physicians who care for approximately 2 million patients annually. Additional information is available at www.norwood-hospital.org.