Extraordinary Nurses Recognized at Norwood Hospital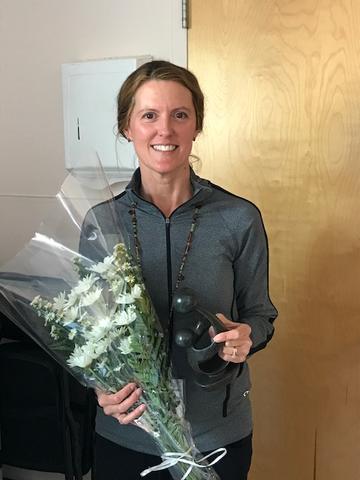 Extraordinary Nurses Recognized at Norwood Hospital
Norwood, MA – May 12, 2018 – Nurses at Norwood Hospital are honored throughout the year with The DAISY Award for Extraordinary Nurses. The award is part of the DAISY Foundation's program to recognize the super-human efforts nurses perform every day and has been presented at Norwood Hospital since 2014.  Five recipients have been honored over the past year in surprise ceremonies. 
The presentation of the most recent DAISY honoree at Norwood Hospital coincides with the celebration of Nurses Week, a national recognition of the contributions that nurses and nursing make to the community. This year's theme Inspire. Innovate. Influence. perfectly reflects all that a DAISY honoree embodies in the profession and is most certainly true of the nurse honored earlier this week.
Nancy Mankavech is a nurse in the Endoscopy unit of Norwood Hospital. She was nominated by a patient who was feeling some anxiety about an upcoming procedure. He wrote, "If it had not been for Nancy, I would have left there as fast as possible.  She was very comforting and patient. She seemed to know what I needed and how to handle things. She was compassionate, and totally non-judgmental. She also took the time to explain to all of her colleagues what I was going through and what my needs were. Thanks to her going above and beyond her normal duties, I was able to have a very important procedure that I needed. I can't say enough about Nancy's actions. She was willing to do whatever was needed to help me. I'm sure it meant more work for her but that didn't faze her at all."
The not-for-profit DAISY Foundation is based in Glen Ellen, CA, and was established by family members in memory of J. Patrick Barnes.  Patrick died at the age of 33 in late 1999 from complications of  Idiopathic Thrombocytopenic Purpura (ITP), a little known but not uncommon auto-immune disease.  The care Patrick and his family received from nurses while he was ill inspired this unique means of thanking nurses for making a profound difference in the lives of their patients and patient families.
2017/18 Recipients of the DAISY Award at Norwood Hospital include Linda Barton, Joan Ballantyne, Helen Ostrom, and Darlene Caswell.
"We are proud to participate in the DAISY Award program.  Our nurses are heroes every day and it's important they know their work is highly valued," says Donna Rubinate, Chief Nursing Officer at Norwood Hospital. "Congratulations to Nancy and to all of our DAISY Honorees and Nominees and thank you for the incredible work you do."