Norwood Hospital Celebrates Five Years of the Morrill Memorial Library's First Steps Program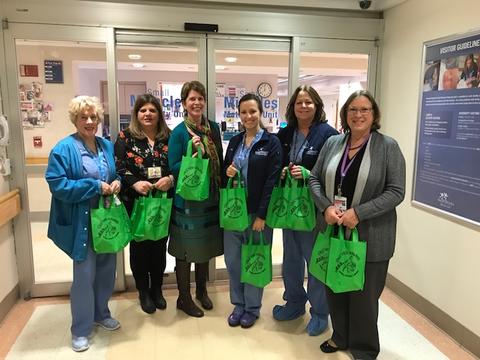 Norwood Hospital Celebrates Five Years
of the Morrill Memorial Library's First Steps Program
Norwood, MA – November 21, 2017 – The Norwood Hospital Small Miracles Maternity Unit is celebrating five years of the Morrill Memorial Library's First Steps reading program. The goal of the program is to encourage new parents to read to newborn children and to encourage them to use their local library. Each Norwood baby born in our maternity unit receives a green book bag, courtesy of the Library. Each bag contains two books, a bookmark, a library card application and a piggy bank from Dedham Institution for Savings who funds the program. Last week, Outreach Librarian Nancy Ling delivered the latest batch of bags to our maternity unit.
About Norwood Hospital
Norwood Hospital is a full-service, 215-bed community hospital for adults and children with a focus on delivering world-class health care along with the latest advances in technology and treatment options. Norwood Hospital is part of the Steward Health Care System LLC, who owns and operates 36 community hospitals nationwide which regularly receive top awards for quality and safety and has more than 37,000 employees. The Steward network includes thousands of physicians who care for approximately 2 million patients annually. Additional information is available at www.norwood-hospital.org
Pictured is Nancy Ling, Morrill Memorial Librarian with the staff members from the Small Miracles Maternity Unit at Norwood Hospital.