Norwood Hospital hosts Norwood High School Students to Hands-On Learning Experience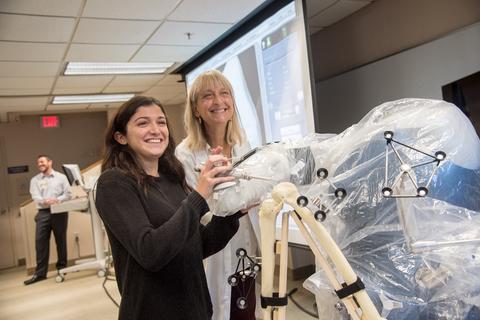 Norwood Hospital hosts Norwood High School Students to Hands-On Learning Experience
Robotics and Anatomy students learn about Robotics in Healthcare.
Norwood, MA (November 6, 2017) – Norwood Hospital welcomed 35 local students and faculty from Norwood High School to the hospital for a hands-on exploration of robotics in healthcare. Students met with two orthopedic surgeons and were able to simulate partial knee-replacement surgery on artificial bones, using the MAKO Robotic-Arm System which is used in hundreds of joint-replacement surgeries at Norwood Hospital each year.
Dr. Mark Messineo opened the session with a quick anatomy lesson on the knee joint, as well as an overview of contributing factors which cause damage to joints, and joint-replacement surgery. Dr. Susan Chabot then explained how the robotic-arm is used during a procedure and provided guided hands-on demonstrations to any student who wished to participate. Together, the group of Junior and Senior students removed the damaged "bone" and prepared the knee for an artificial joint.
Anne Marie Busler's Anatomy and Physiology students are just beginning their studies on the knee-joint and learned about how surgeons evaluate the health of the knee and develop treatment solutions.
"The students were able to make clear connections between the concepts we study in class every day, and how they are put to work in robotic surgery," said Dr. Michael Crowley, Robotics Teacher at Norwood High School. "It was an inspirational morning."
"We really enjoyed having the students from Norwood High School join us for this educational session," said Matt Lowry, MD, Vice-President of Medical Affairs, who welcomed the students and faculty. "I hope that we were able to enhance their learning and pique their interest in careers in healthcare by sharing real-world applications of what they are discussing in the classroom."
About Norwood Hospital
Norwood Hospital is a full-service, 215-bed community hospital for adults and children with a focus on delivering world-class health care along with the latest advances in technology and treatment options. Norwood Hospital is part of the Steward Health Care System LLC, who owns and operates 36 community hospitals nationwide which regularly receive top awards for quality and safety and has more than 37,000 employees. The Steward network includes thousands of physicians who care for approximately 2 million patients annually. Additional information is available at www.norwood-hospital.org.