Norwood Hospital hosts Healthcare Explorers Program for local students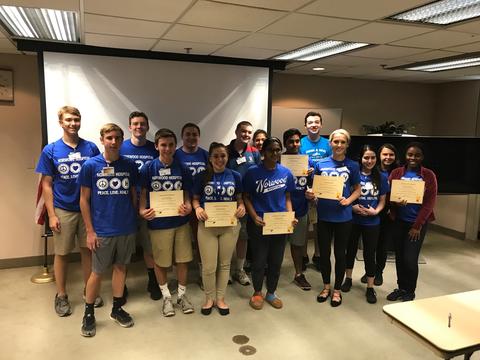 Norwood Hospital hosts Healthcare Explorers Program for local students
Area High School students learn about careers in healthcare.
Norwood, MA (August 22, 2017) – Norwood Hospital welcomed 16 local high school students from surrounding communities including Norwood, Canton, and Westwood to the hospital for a week-long exploration in careers in healthcare (July 24-28, 2017). Students were introduced to more than 20 departments within the hospital including the Cardiac Catheterization Lab, Nutrition, Radiology and Imaging, Interpreter Services, Laboratory, and Rehabilitative Services.
Supervised tours included a discussion about education and training, job responsibilities and the roles of various team members within the departments. Upon completion of four days of exploration, students and their parents were invited back to the hospital for a "graduation" ceremony. At the event, students made formal presentations focused on departments that they visited or areas that were of particular interest to them.
"The Healthcare Explorers program was amazing," said Laura Mazzola, a parent from Canton, MA. "My son enjoyed learning about so many departments within the hospital, many of which he had no idea existed. This was a wonderful opportunity that allowed him to learn about potential careers and is an excellent opportunity for rising high school students."
"This was an excellent career discovery opportunity for our students interested in healthcare, and those still exploring their options," said Richard Mobley, Career Advisor at Norwood High School. "The students were exposed to careers and opportunities they didn't even know existed, and discovered new areas of interest."
"It was a joy for us to share our passion about our careers with these students," said Donna Rubinate, Chief Nursing Officer of Norwood Hospital. "I hope that we were able to open their eyes to the world of opportunity that awaits them and to the rewarding experience of caring for others."
Norwood Hospital launched the Healthcare Explorers program in 2016 and this year expanded the program to additional communities in the area. For more information on future Healthcare Explorers sessions, please contact your local High School Guidance Department.
About Norwood Hospital
Norwood Hospital is a full-service, 215-bed community hospital for adults and children with a focus on delivering world-class health care along with the latest advances in technology and treatment options. Norwood Hospital is part of the Steward Health Care System LLC, who owns and operates 18 community hospitals across four states, serves over 800 communities, and has more than 23,000 employees. The Steward network includes several thousand physicians who care for approximately 2 million patients annually. Additional information is available at www.norwood-hospital.org.