Norwood Hospital launches One Month to Heart Health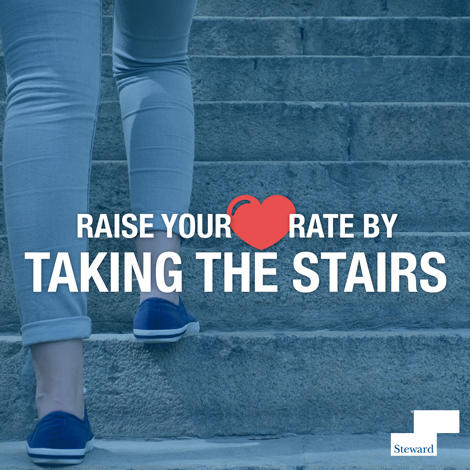 Norwood, MA – February 13, 2017 – Throughout February, Norwood Hospital is celebrating American Heart Month by promoting heart health through their Facebook-page campaign called One Month to Heart Health. The campaign is aimed at people of all ages and backgrounds and encourages them to take a small step each day toward improved heart health.
According to the Center for Disease Control, "Cardiovascular disease (CVD)—including heart disease, stroke, and high blood pressure—is the number 1 killer of women and men in the United States. It is a leading cause of disability, preventing Americans from working and enjoying family activities. CVD costs the United States over $300 billion each year, including the cost of health care services, medications, and lost productivity."
"The goal of our efforts is to empower the people in our community to make positive lifestyle changes and prevent heart disease," says Kim Bassett, president of Norwood Hospital. "Most cardiac events are considered 'preventable', and we want to do all we can to educate the community about how they can take better care of themselves and prevent heart attack and stroke."
One Month to Heart Health features a mix of challenges such as taking the stairs instead of the elevator, making small adjustments to your breakfast routine, and watching a funny movie as a stress reliever. Each challenge is meant to demonstrate how easy it can be to make positive changes in your lifestyle. Facebook users simply need to follow Norwood Hospital on Facebook to see the day's challenge in their newsfeed each day.
In addition to the One Month to Heart Health Challenge, Norwood Hospital will "Go Red" on February 14th, to raise awareness for heart disease. Staff members are invited to wear red apparel to help spread this important message.
About Norwood Hospital
Norwood Hospital is a full-service, 215-bed community hospital for adults and children with a focus on delivering world-class health care along with the latest advances in technology and treatment options. Norwood Hospital is part of the Steward Health Care System LLC, the largest integrated community care organization in New England which combines over 3,000 physicians, 10 acute care hospitals, managed care, insurance programs, home care, an imaging operation, and a number of other post-acute services, to provide the most cost effective and highest quality of integrated patient care. Additional information is available at www.norwood-hospital.org.