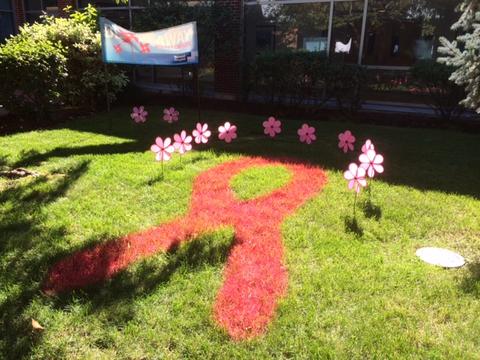 Norwood Hospital promotes Breast Cancer Awareness
with "Blow Away Breast Cancer Campaign"
Norwood, MA – October 14, 2016 – Norwood Hospital is recognizing Breast Cancer Awareness this October with the "Blow Away Breast Cancer" campaign. The team at Norwood has constructed a "Pinwheel Garden" in the inner courtyard of the hospital. Staff members and volunteers are invited to donate $1 toward a pink pinwheel to honor a loved one who has been impacted by breast cancer and to encourage community members to schedule their annual mammograms.
The garden will be on display throughout the month of October, as team members get into the spirit of awareness and dedicate pinwheels in honor of those they care about. Norwood Hospital also plans to make a donation to the American Cancer Society to honor all those remembered in the garden.
"Screening mammograms are so vital to the prevention of breast cancer. We want to remind women in our community to schedule and keep their annual mammogram appointment," says Kim Bassett, President of Norwood Hospital. "As healthcare providers, we see the difference early detection can make in the lives of the people we serve, so we are passionate about spreading this message."
Data proves that early detection of breast cancer, and early treatment, saves lives. 80 to 90 percent of asymptomatic breast cancers are diagnosed by mammogram. But, despite these figures, only about half of women who are recommended to have annual mammograms are getting them. Women over 40, those with a family history, or those who have noticed a breast abnormality, should contact their primary care physician to get a consultation and referral.
About Norwood Hospital
Norwood Hospital is a full-service, 215-bed community hospital for adults and children with a focus on delivering world-class health care along with the latest advances in technology and treatment options. Norwood Hospital is part of the Steward Health Care System LLC, the largest integrated community care organization in New England which combines over 3,000 physicians, 10 acute care hospitals, managed care, insurance programs, home care, an imaging operation, and a number of other post-acute services, to provide the most cost effective and highest quality of integrated patient care. Additional information is available at www.norwood-hospital.org