Norwood Hospital, including the Emergency Department, is temporarily closed due to flooding from the June 28, 2020 storm. Please do not come to Norwood Hospital at this time if you are having a medical issue. If you or a family member is experiencing a medical emergency, please call 911. 
COVID-19 Outpatient Testing Center – November 2, 2020 Update
Norwood Hospital is proud to re-open our COVID-19 Outpatient Testing Center. This is not a walk-in center and appointments are by physician order fax only. Click here for full details. 
ARCHIVE: Norwood Hospital COVID-19 Care and Response – June 2, 2020 Update
Norwood Hospital's Emergency Department is safe and open to care for you in case of an emergency. Hear from our Assistant Chair, Emergency Medicine, Erik Deede, MD in an interview with Dedham TV's "502 Conversation" segment.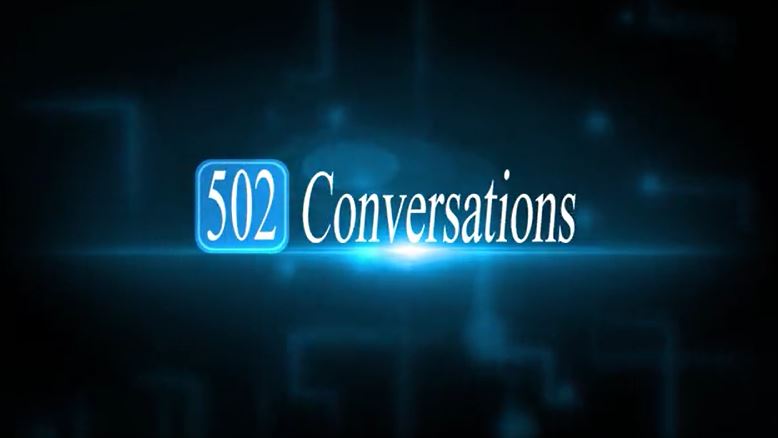 Norwood Hospital COVID-19 Care and Response – May 4, 2020 Update
Norwood Hospital is seeking people who have recovered from COVID-19 willing to donate plasma to help current COVID-19 patients.
If you are able to help and interested in learning more call Ailish Wilkie, Director of Quality & Safety at 781-278-6310.
BACKGROUND
On March 24, 2020, the FDA provided an expedited method for healthcare providers to utilize convalescent plasma to treat patients with serious or immediate life-threatening COVID-19 infections.
Norwood Hospital, working with the American Red Cross, is recruiting community members who have recovered from a confirmed case of COVID-19 to donate plasma as part of our Convalescent Plasma Program.
For more detailed information, visit the Red Cross' dedicated Convalescent Plasma Program web page. 
FREQUENTLY ASKED QUESTIONS 
Am I eligible? Who is eligible?
The Red Cross is currently looking for people who have fully recovered from this new coronavirus to give convalescent plasma for seriously ill coronavirus patients. You may qualify to help if you meet specific convalescent plasma and regular blood donation eligibility requirements:
Are at least 17 years old and weigh 110 lbs. Additional weight requirements apply for donors age 18 or younger.
Are in good health. You generally feel well, even if you're being treated for a chronic condition. View blood donation eligibility FAQs.
Have a prior, verified diagnosis of COVID-19, but are now are symptom-free and fully recovered from COVID-19.
Do I need a doctor's order?
No, you do not need a doctor's order but you do need a physician or lab result confirmation of a positive COVID-19 diagnosis.
Where do I go?
All donations are performed at the American Red Cross Dedham location at 180 Rustcraft Road. Phone: 1-800-RED CROSS
Norwood Hospital COVID-19 Care and Response – April 30, 2020 Update
Learn more from Norwood Hospital's Emergency Medicine physician, Dr. Michael Regan about important information regarding Emergency Room safety and community health.
Thank you Norwood Community Media for sharing this critical information.
Norwood Hospital COVID-19 Care and Response – April 27, 2020 Update
At Norwood Hospital's Outpatient COVID-19 Testing site, a new queuing tent has been set up outside to help keep our patients sheltered from bad weather while they wait for their designated test appointment time. Please check the weather on the day of your test and dress appropriately and bring an umbrella for further protection.
Norwood Hospital COVID-19 Care and Response – April 9, 2020 Update
Everyone on Steward properties - Norwood Hospital and Steward Medical Group locations - should have a mask on. This new measure has put in place for your protection, as well as the protection of patients and hospital staff. We ask for your understanding and appreciate your cooperation in our commitment to keeping our community safe.
Learn more from Norwood Hospital's President Salvatore Perla, DrPH regarding how the hospital is caring for the community during the COVID-19 pandemic. Topics discussed include:
Hospital Preparation
COVID-19 Outpatient Testing and New X-Ray Facility
Staff Safety and Health
Local Nursing Home Support
PPE Status
Visitor Policy
Thank you Norwood Community Media for sharing this critical information.
Norwood Hospital COVID-19 Care and Response – March 31, 2020 Update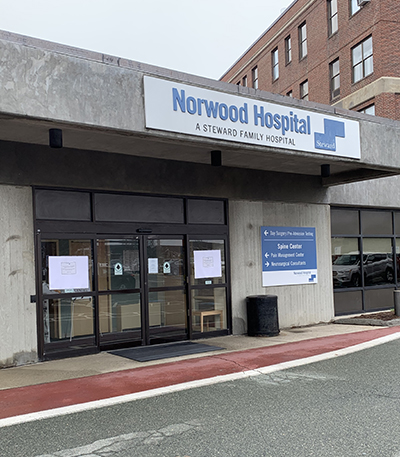 Norwood Hospital continues to offer COVID-19 testing via our Outpatient Testing site along with treating patients in our hospital with the virus and virus-like symptoms. Below are more details about how to access testing and care along with making a donation to our hospital. During this time, we encourage social distancing, washing hands and if you have a fever, cough or other symptoms call your primary care physician first.
COVID-19 Outpatient Testing
Testing done at our Outpatient Testing site (located in our former DAY SURGERY AREA) is performed with both:
A physician's laboratory order, which can be faxed to 781-762-2138.
A patient appointment, which can be made by the patient by calling 781-278-4499.
Please Note, THIS IS NOT A WALK-IN CLINIC. Norwood Hospital operates the Outpatient Testing site 5-7 days a week. 
COVID-19 Test Results
For results, please follow-up with your primary care physician.
For return-to-work paperwork, please follow-up with your primary care physician The turn-around time on test results currently varies and is being impacted by the number of tests performed throughout the state.
Donations
Thank you to the many individuals and businesses in our community for your donations of food and equipment. Your support means the world to us during this time. To make a donation, visit our dedicated donations webpage.
March 20, 2020 Update
As part of our emergency response to the novel coronavirus (COVID-19), Norwood Hospital has moved Outpatient Testing operations to a dedicated site ADJACENT (to the left) of the emergency department in our DAY SURGERY area.
Follow these steps to schedule testing:
If you have symptoms, including fever, cough or respiratory distress, please first contact your primary care physician who will provide next steps.
 
This is not a walk-in center for COVID-19 testing. Patients who may be tested here must have a LABORATORY ORDER FROM THEIR PHYSICIAN.
 
If a COVID-19 test is recommended, please call Norwood Hospital's dedicated COVID- 19 testing pre-registration line at 781-278-4499.
 
Physicians, please fax lab orders to 781-762-2138.
Is the tent operational?
The tent is no longer in use for testing of suspected COVID-19 patients. It will be used in the future for potential patient influx. As such, we will keep it erected for the foreseeable future. If we do operationalize the test again, Norwood Hospital will communicate that publicly.
How long does it take to get results?
Testing is being conducted at our laboratory in Marlboro with turn around often within 48 hours. Please check back for updates. 
Norwood Hospital is committed to ensuring the safety and health of our community, patients and staff and will continue to provide regular COVID-19 updates. If you have any questions or concerns, please call our Information Line at 781-278-4444.
Norwood Hospital COVID-19 Media Coverage
Breastfeeding 101 Course
For our new moms, we are here to support you in your breastfeeding journey. While we cannot meet in person, we have published our Breastfeeding 101 class content to support you during this time! Click here to download the class content.
If you have any questions after reading the class content, please contact our Lactation Clinic at 781-278-6413 or email [email protected].